Service Center Page

Service Center
Customer Reviews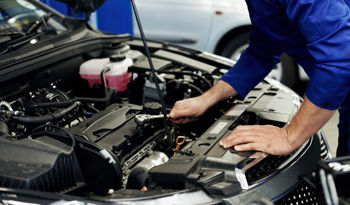 Julio Jones Kia Service
Our automotive service technicians are an elite group of ASE-certified technicians whom we hand-select for their years of experience working on all makes and models. We then provide them with ongoing factory training to master service and repairs on KIA models.
Serving Tuscaloosa, AL,
We warmly welcome all our friends and neighbors in the Tuscaloosa, AL, area to stop by any time at our KIA service center. We offer comprehensive service for your KIA to keep everything from your A/C to alignment in perfect working order. This requires a large investment in infrastructure and special tools. It is difficult for general repair shops to compete with our factory-trained KIA technicians. They are armed with exclusive computer resources and diagnostic tools that add a technical edge to every repair and service. Without this technical edge, general labor shops are often forced to guess what is wrong when your vehicle develops an electromechanical problem.
Our technicians have the years of experience to perceive subtle issues in your vehicle just by driving them for a few minutes. If they feel a lack of power or any interference in the steering, braking, or acceleration, it will seem plain as day to them. Owners may not know that a problem exists because they have nothing to compare it to after slowly developing an issue over months or years. A lot of nuanced and highly technical issues are overlooked by owners and lead to catastrophic failures when they are not serviced by pros who specialize in KIA's. When you are dealing with professionals who have master tool sets and years of formal training, you can have confidence in any repair. You will not have to worry about downtime, expensive car rentals, and all those annoying problems like loose bolts, leaky gaskets, and noises that come with poorly executed repairs.
Automotive Service
Our technicians save you money down the line by retaining the original synergy of your automotive systems. They only use Genuine KIA parts to keep your ride running like new forever. When you install new parts, you can expect them to double the lifespan of any system they rejuvenate. This means that an axle that lasted 100,000 miles is going to last another 100,000 miles when replaced. Not only are aftermarket parts reverse engineered and designed to fail prematurely, but they may also make it too expensive to keep a used vehicle on the road when the labor and failures crescendo.
A significant chunk of the repair costs is eaten up by labor. When you have parts failing and skimp by with only replacing parts that are on their last leg, you will be overwhelmed with piecemeal repair bills. If you fix one part of a system and it causes other parts to fail, you can bet that your new aftermarket part screwed up the synergy of the system and led to the premature failures. When you take your KIA to general repair shops, you automatically void the factory warranty by burdening intricately interconnected systems with weak links. Our automotive service center knows how to save clients money by helping them consolidate repairs even when parts are heavily worn but have yet to fail. When you constantly keep your used vehicle running like new, you can easily pinpoint and solve failures as they arise instead of playing guessing games or throwing parts at a vehicle.